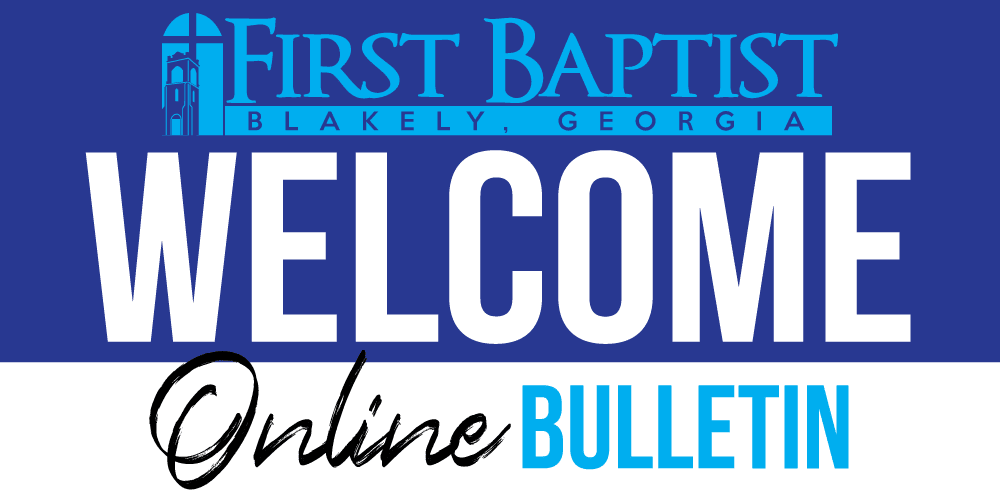 The flowers in the Sanctuary are in memory of Cindy and Mr. & Mrs. Arthur Chapman by Lea & Bernie Taylor.

NEW to First Baptist Blakely? WELCOME! We're so glad you're worshiping with us! We'd love for you to fill out an online Connect Card so that we can learn more about you and help get you connected! Visit fbcblakely.com/connect and someone will contact you shortly!

Piano & Vocal Lessons
: As a ministry of the Church, our part-time pianist, Ms. Cindy Ward, will be offering piano and vocal lessons here at FBC Blakely. These will take place on Sunday afternoons, starting next Sunday, August 9. Please see our Worship Pastor, Jeremy Jordan, for more information.
Grad Sunday 2020:
High School Graduates:
Davia Allen
Jackson Allred
Canton Conner
Bradley Enfinger
Gunner Griffin
Jared Hawkins
Dalton Holley
Owen McFay
Payton Rode
Andrew Smith
Alex Warr
Collin Wilson
College Graduates:
Bailey McFay

Thank you for your faithful giving to First Baptist Blakely. Your financial support and investment in our church has a direct impact on our ministry. God is at work in our church and because you give, we are able to see lives touched, changed and redirected to honor Him. You can give online no by clicking the button below.

November 1, 2020
The Book of James:
"

??

"
James 5

Make a decision today? Click the button below and complete our Decision Card and we'll be in touch soon!

Have something you'd like us to pray with you about? Click the button below and fill out the form so we can pray together.